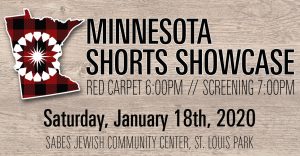 TCFF Insider Series: Minnesota Shorts Showcase
Come and celebrate the Minnesota film community! Join us for a compilation of outstanding Minnesota connected short films. This is your opportunity to not only see some great films, but meet the filmmakers, cast and crew and learn more about the films.
Location: Sabes Jewish Community Center
4330 Cedar Lake Rd.
St. Louis Park, MN 55416
Screening: 6:00pm: Red Carpet Interviews and Photos
8:30pm: Q&A with Filmmakers – Josh Dahlman, Host
Age: 18+yrs ONLY.
Tickets:
 $12 Early Bird. $14 Same Day, online or onsite*

Selected Films
Call In – A local pirate radio host's world is shaken when someone actually phones in during his daily call-in segment.   Director – Ethan Vander Broek
Last Straw is a glimpse of my authentic experience as a female mathematician. It's a narrative piece about science, motherhood, recycling, and politics. It's about trying to use scientific facts to build something better for those we love. Every interaction in this film has happened to me and to many other women who work in the sciences.  Filmmakers – Jason and Samantha Schumacher
Dupling – Based on the director's experience of moving from China to a predominantly white, rural American town when she was 14. The story takes place on Xiao Xing's first day of high school after the move, where she begins to feel isolated in her public school cafeteria. She preserves her identity by eating dumpling she brought from home. "Dumpling" blends traditional narrative with magic realism to reflect on the struggle to belong.  Director –  Xiaolu Wang
Dust and Ashes – On the outskirts of a utopian city where only perfect health and wholeness are accepted, a mute cripple and his autistic brother smuggle resources to an outcast community.  Director – Joshua Palmer
Teacher's Lounge is an ensemble horror short film about a sadistic ritual new teachers must partake in on the first day of school.  Director – Josh Mruz